AdPoS Advanced Power Systems

AdPoS is one of the leading suppliers of uninterruptible power supply technology (USP) for complex industrial applications as well as PC-based systems.
Uninterruptible Power Supply Systems

Power Measurement and Energy Analysis Systems

Measure, Control and Analyse Electrical Power

Certified service team & worldwide delivery
Any questions? We have answers!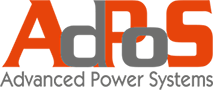 "More than 20 years of experience in the field of interruption-free power supply systems"